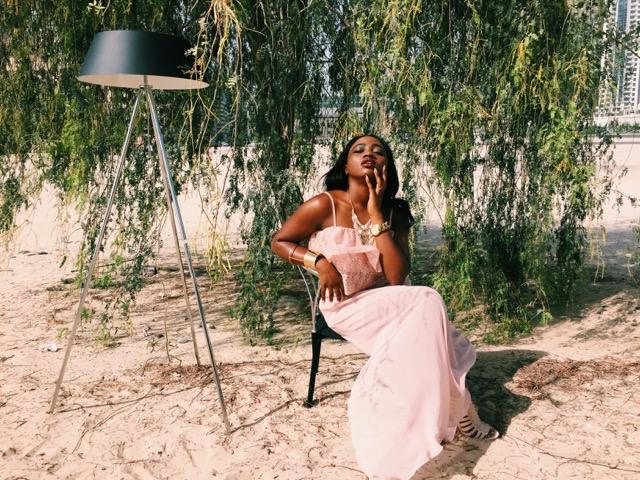 MWINDA means LIGHT. More specifically the traditional African Petrol lamp in Kitunba/Lingala language in Congo. The brand is a mixture of comtemporary yet vintage with inspiration of the beautiful African culture. Joelle Ngolatsie is a Congolese fashion designer and founder of Mwinda. Raised between Congo-Brazzaville and South Africa, currently based in Dubai. The young and dedicated designer is a business management major, her Passion for fashion cultivated right from childhood. The Mwinda woman is independent, confident, classy, sexy in a modest and captivated way, she is unique and extremely aesthetical soul.
CURENT COLLECTIONS
MMWINDA SPRING/SUMMER 19
 This collection name is « M » It is inspired by the measuring tape, each design stretches and defies our mindset and perception of what is essentially a tool, to a real fashionable garment.
This collection  revisits the measuring tape's utility, is it an eveningwear silk dress strap, a stunning velvet dress's belt, or is it repeatedly wrapped around a lucky girls hips as a skirt, perhaps it is a leather belt with a beautiful crystal buckle or gold brass. What is a measuring tape really? MWINDA's M collection is giving the measuring tape the front stage.
The Awakening of a woman Autumn/Winter 19
This collection is about experimenting different styles in the winter and being just as elegant as in the summer . The Awakening Of A Woman collection explores different cuts and shapes from very sharp and architectural cuts to the more free and unformed shapes. It carries the subtle irony of the cone shape waist pants and skirt, which was inspired by the very ice-cream cone, perfect fit for a winter collection.
PLEASE NOTE: In the attempt to reducing textiles waste and negative impact on the environment. Some items can only be pre-ordered. Be assured this only means that selected items will take an extra 24h to 48h for us to immaculately prepare and deliver your special order.